The Refuge House on Park Street.
This house was purchased to use for temporary short term transistional housing for 1 night to a maximum
of 30 days for homeless families. Much repair was needed.
Progress being made on the first work day!!
First work day: NEW WINDOWS
Second Work Day- New porch and steps
Rotted sills and floor joists in bathroom had to be replaced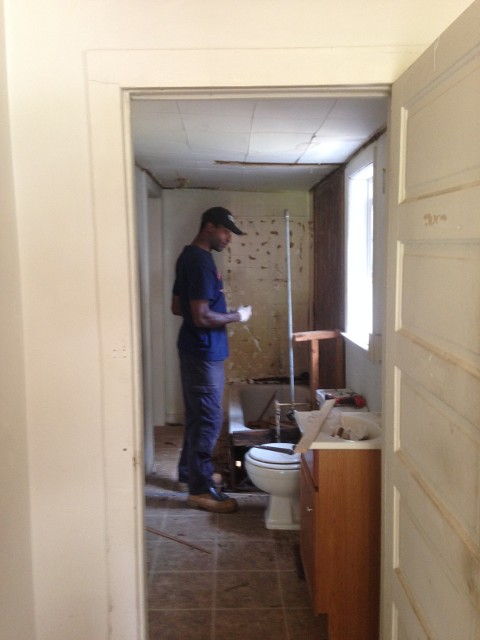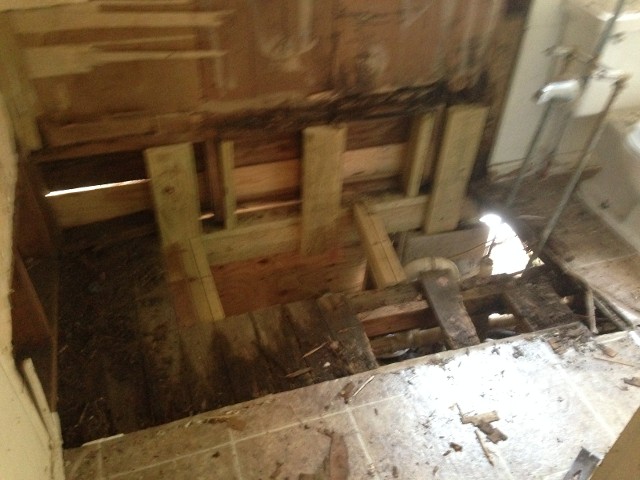 This bath was a total demoliton to the dirt.
Much needed storage going in. New linen closet in rear can be opened in laundry room and bathroom.
Additional storage cabinet for other supplies.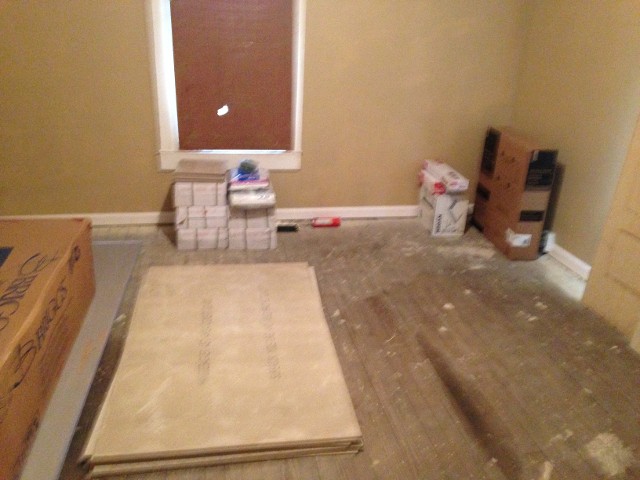 Lowes at Concord Mills donated all of the bathroom supplies from floor to ceiling except the vanity, sink and faucet which were donated from a neighbor and Centerview Community Crime Watch member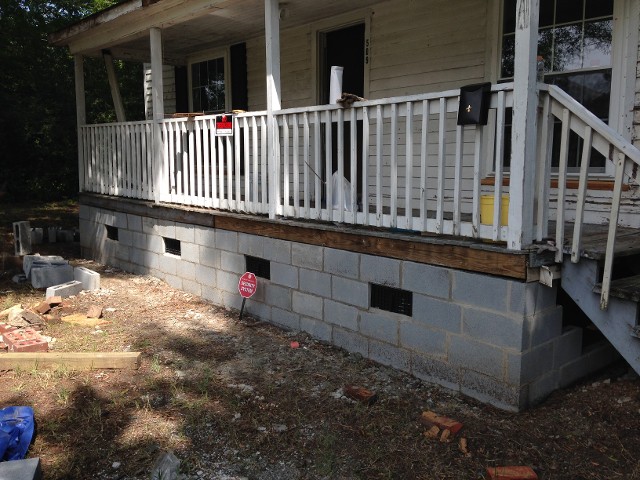 Vinyl trailer under pinning replaced with block foundation
The kitchen was horrific with only a few small cabinets.
Now we have beautiful oak wood recycled cabinets.
New interior doors and trim in all the rooms
New ceiling tiles in all the house
and one coat of primer/paint
Finally we are on a down hill run to the finish line.
We are so blessed with our volunteers, many are the patrons from Operation Homeless, Inc. that we work with every day teaching them new skills to broaden their job search areas.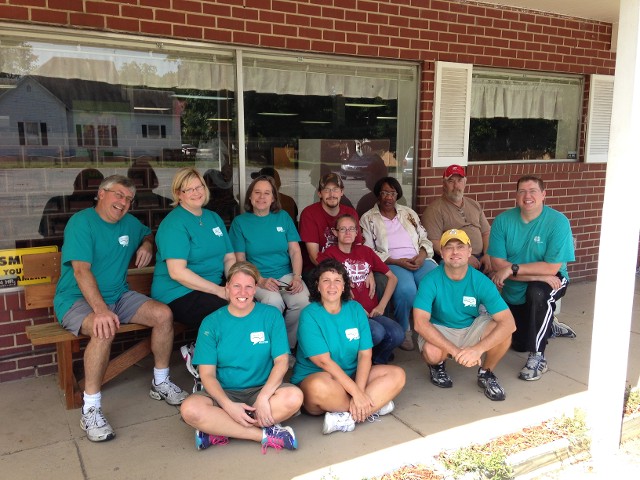 Potter & Co. Certified Public Accountants in aqua shirts came on September 19, 2014
to work on the homeless house on CPA Give Back Day to the community.
Steps removed from side and replaced at the front and the underpinning finished.
All plumbing pipes in the house and to the water meter have had to be replaced from the original pipes which were completely
rotten and had developed multiple leaks.
Plumbing repair and materials donated by Precision Plumbing of Matthews- Charlie Brown, owner and Plumber, Matthew Mana
Finally a finished interior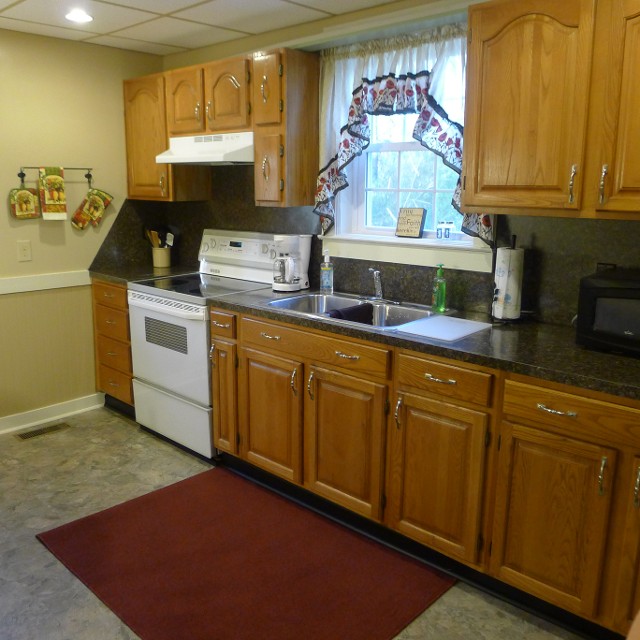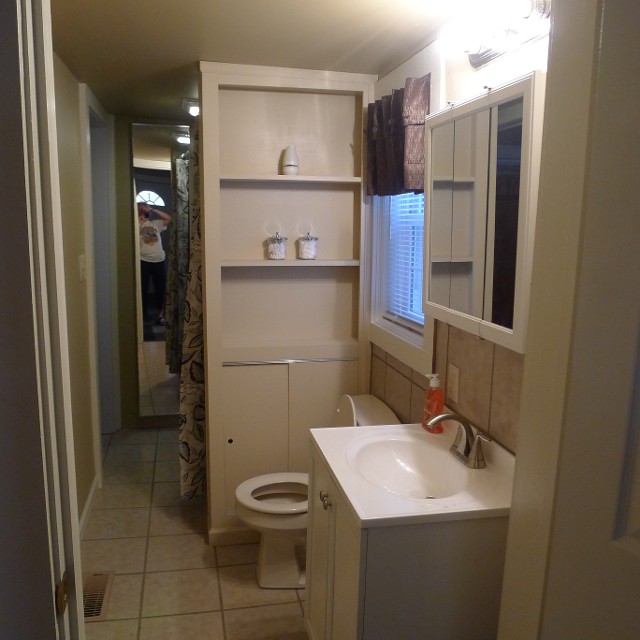 HTM Enterprises, Trent Clay provided all the labor to put the bathroom
back together after the total demolition of it.
Custom Cabinets in bathroom built by Grady Gulledge, at Gulledge Building Supply
Our exterior being worked on.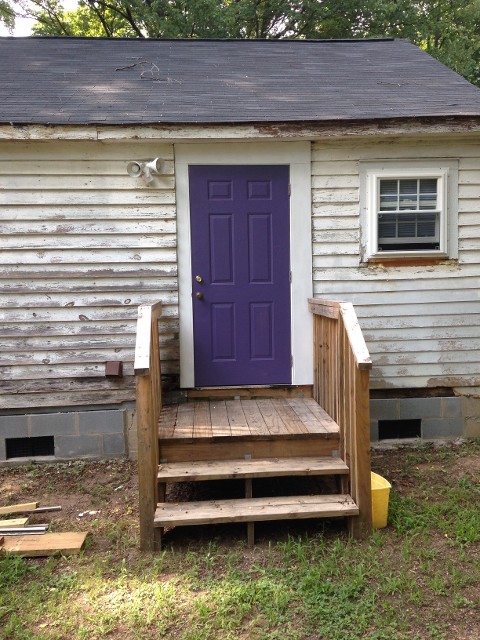 Painted doors and foundation
Vinyl siding donated by
Precision Plumbing,
Charlie Brown, owner
and was installed by volunteers of Operation Homeless, Inc.
Our success comes from the dedication of our Refuge Partners and Faithful Levites.
Our volunteers are the greatest!